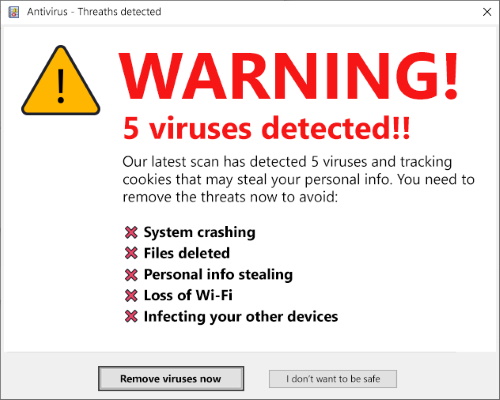 Source: avast.com/c-scareware
Scareware is malware that uses an alarming pop-up security alert to frighten you into clicking on a link. Clicking on the link downloads a virus to your computer. Such trickery is referrd to as "social engineering".
Some websites display a pop-up window with a message such as "Your computer has been infected with a virus! Immediate removal required. Click here to remove". Upon clicking, a virus is downloaded to your computer. Some of these fake warning messages also display a fake [Cancel] button. Clicking the Cancel button also downloads a virus to your computer.
Sometimes the fake warning will request payment to download an anti-virus program. If you enter your credit card number, if they download anything, it will not be an anti-virus program. Sometimes The popup is designed to look like it come from your computer's operating system when it is actually a webpage.
If you see such a fake security alert mesage box, close your browser immediately, and then run your computer's anti-virus program. If you don't have an anti-virus program configured, you can download Avast Free Antivirus or get Avast Premium Security 2021 | Antivirus Protection Software | 1 PC, 1 Year [Download]
More Windows Administration Information:
• PC Chassis Intrusion Detection
• Remove Stubborn Malware Infection With McAfee Labs Stinger
• Keep Your Internet Browsing Private with InPrivate Browsing
• Phishing Attacks
• Six Steps to Get and Keep Your Computer Running at Full Speed
• Computer Architecture, Main Memory, and the CISSP Exam
• A Guide to Understanding Security and Safe Windows Vista Computing
• What is 2-Factor Authentication?
• Beginner's Guide to Computer Forensics
• How Many Spyware Items Are Slowing Down Your Computer?