AVG Free Edition by Grisoft is Vb100 and ICSA certified. This means AVG will detect 100% of all known viruses. AVG provides both file and email protection that works with any POP3/IMAP4 email client, including Outlook and Outlook Express.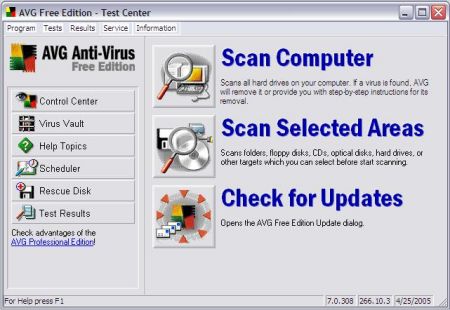 AVG Free Edition is free of charge for private, non-commercial, single home computer use. Download the 7.3 MB application from AVG Free. After you install the program, the First Run Wizard guides you through the following steps:
• Perform AVG Free update
• Create a rescue disk
• Setup personal email scanner
• Scan your computer for viruses
• Register AVG Free
The registration agreement states "The user's personal data ... will be 'processed' for Grisoft's marketing and trade purposes including deleivery of commercial announcements." After registering you will Free Virus Database Updates. AVG Free does not come with free technical support, the only support you can receive is through their forum.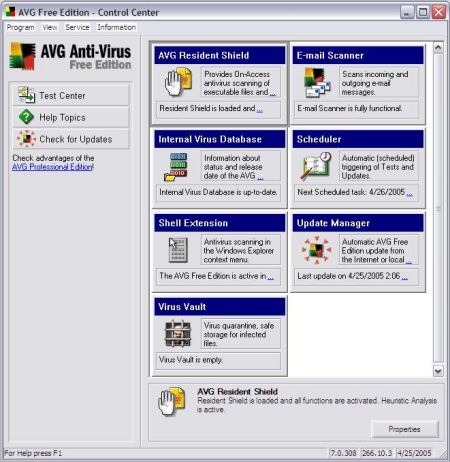 AVG Free cannot be installed on a server nor can it be used for scanning of network drives. AVG Full Edition comes with Free, 24/7 e-mail technical support. You can download a 30 day trial version of the Full Edition.

Learn more at amazon.com
More Windows Administration Information:
• What is 2-Factor Authentication?
• How Many Spyware Items Are Slowing Down Your Computer?
• Fundamentals of Windows Security
• Encryption, Designed to Protect Data, is Internet Criminal's Best Tool
• Firefox Security Options
• Has Malware Turned Off Your PC's User Account Control?
• Top Features to Look for in Antivirus Software
• Five Critical Steps to Protect Your Personal Information and Computer
• An Introduction to Forensics Data Acquisition From Android Mobile Devices
• Easiest Ways to Beat Ransomware