Windows Event Logs for Maintaining or Troubleshooting Your PC
Your PC keeps logs of everything that happens, when it happens, and the result of that event. Rather than a single log, windows keeps several logs. Everything from a user logging in, to a program crashing, to system tasks being performed is recorded in some log. You can use that information to help maintain and troubleshoot and your PC. The Utility that lets you access the logs is called Event Viewer.
To Open Event Viewer
1. In windows Search box (left-bottom of screen) type Control Panel.
2. In Control Panel, select Administrative Tools.
3. In the Administrative Tools window, select Event Viewer.
4. In the Event Viewer window, left panel, open the Windows Logs branch.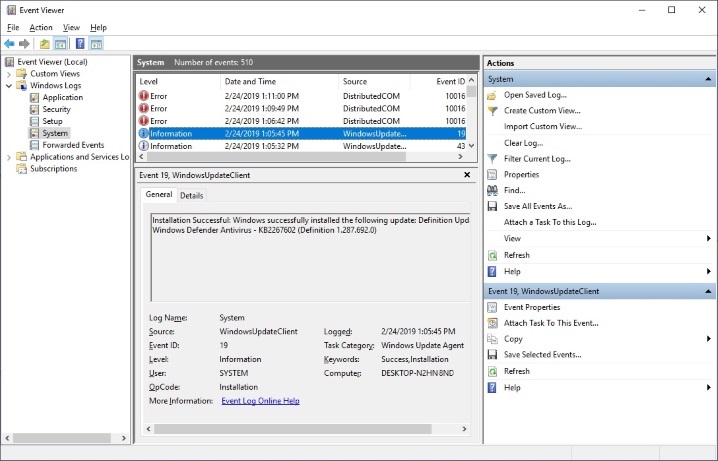 You'll see logs for Application, Security, Setup, System, and Forwarded Events". Lets select the "System" log.
5. In the upper center panel the System log will appear. In the Level column of the log you may see a red exclamation icon, a yellow exclamation icon, or a white information icon.
6. Click on one of the logs in the list. The lower center panel will be filled with information about that specific event.
Understanding Events
Everything that happens in Windows is recorded in one of the event logs.
Types of logs:
Application: The Application log records events related to Windows system components, such as drivers and built-in interface elements.
Security: The Security log records events related to security, such as logon attempts and resource accesses.
Setup: The Setup log records actions that occurred during Windows Setup.
System: The System log records events related to operating system servers and processes.
Forwarded Events: This log, used on a network, allows administrators to forward events from remote computers and store them in an event log on a collector computer.