Free Open Source CPU Temperature Monitor
Does your PC, randomly shut down, randomly lock up, suddenly slow down to a crawl, randomly reboot? One of the first things you should susspect is tha your CPU is overheating. Overheating of the CPU can even destroy the processor and possibly take out some other components in the process. The normal operating temperature of the processor depends on the brand and model.
| | |
| --- | --- |
| CPU | Normal Temp |
| Core i3-2100 | 50 to 62°C |
| Core i5-2500K | 55 to 65°C |
| Core i7-2600K | 47 to 60°C |
Normal Intel CPU Operating Temperatures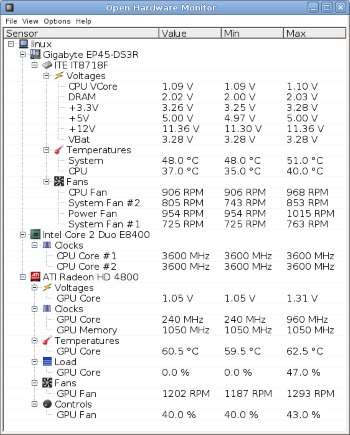 Open Hardware Monitor is a free open source application that monitors temperature sensors, fan speeds, voltages, load and clock speeds of a computer. It supports most hardware monitoring chips found on todays mainboards. The CPU temperature can be monitored by reading the core temperature sensors of Intel and AMD processors. The sensors of ATI and Nvidia video cards, as well as SMART hard drive temperature can be displayed.
The monitored values can be displayed in the main window, in a customizable desktop gadget, or in the system tray. The free Open Hardware Monitor software runs on 32-bit and 64-bit Microsoft Windows XP / Vista / 7 / 8 / 8.1 / 10 and any x86 based Linux operating systems without installation. Remember to run Open Hardware Monitor as an administrator.
If you like the Open Hardware Monitor, feel free to make a donation
More Windows Troubleshooting Articles:
• Use chkdsk to Find and Repair Disk Errors in Windows 7
• How to Fix "ICACLS" Error
• Run Old Programs in Windows Vista
• Diagnose a PC's Multimedia Functions
• How To Fix Peer Name Resolution Protocol Service Errors
• Understanding the boot.ini File
• The Blue Screen of Death (BSOD)
• Troubleshoot Windows with Event Viewer
• Fix DNS Server Not Responding on Windows 7
• What's With All Those Error Messages?