Troubleshooting and Maintaining Your PC All-in-One Desk Reference For Dummies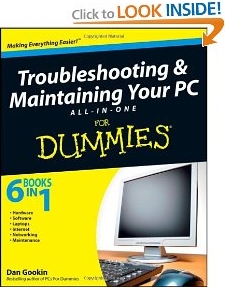 Most troubleshooting books concentrate on upgrading - and usually hardware at that. This book concentrates on solving problems - whether they're software, hardware, or operating system problems. In addition, Dan offers tools and advice on maintaining your system to maximize its life. Seven minibooks cover:
• Hardware
• Software
• Laptops
• Internet
• Networking
• Maintenance
• Useful Tools
Reader Arron W. Muir says, "I am an above average computer user and this book was still very helpful. The layout is very well done, you just go to the chapter that fits your need without having to read through allot of other stuff to find what you need. I would recommend this book to anyone that wants to save a buck rather than pay a Geek!
This book reflects the handholding, clear explanations, and light humor that are hallmarks of the For Dummies style.
Maintaining a PC is important, and troubleshooting a PC can be a challenge. Dan Gookin is great at explaining how to handle common PC problems, and heís provided a complete, plain-English manual in Troubleshooting & Maintaining Your PC All-in-One For Dummies. Liberally laced with Danís famous humor and clear instructions, Troubleshooting and Maintaining Your PC All-in-One For Dummies is divided into six minibooks covering hardware, software, laptops, Internet, networking, and maintenance. Each one gives you some background on what causes common problems, to help you understand whatís wrong as well as how to fix it. Youíll learn to:
• Troubleshoot both Windows XP and Vista
• Solve e-mail and Web woes, makes friends with ActiveX, and protect your system from evil software and viruses
• Resolve router problems, reset the modem, delve into IP addresses, and find the elusive wireless network
• Investigate startup issues, battery quirks, and power problems
• Travel safely and efficiently with your laptop
• Perform regular maintenance and keep good backups
• Solve problems with disks and printers
• Find missing files, successfully restore files if something major goes wrong, and pep up your PC
The bonus DVD walks you through some of the complex steps discussed in the book and demonstrates tasks like removing a hard drive. Thereís a great collection of free and demo software, too. Troubleshooting and Maintaining Your PC All-in-One For Dummies is tech support in a book!
Reader Michael G. March of San Francisco, CA says, "This is an excellent book. It went beyond my expectations and I would recommend this to everyone. It's easy to read, written well and very informative. It's a must read." Click here for more information.
More Windows Troubleshooting Articles:
• Fix 0Xc0000076 Error in Windows 10
• How to Spot a Failing Hard Drive
• How to Fix CD-ROM Redirector Error
• Video - Dell Laptop Optical Drive Replacement Tutorial
• What Should be in a PC Technician?s Tool Kit?
• Printer Troubleshooting
• How to Repair Low Memory Errors
• A lot of Beepen and Tooten But No Booten?
• How to Fix Overheating Computer
• PC Troubleshooting - No Sound