The OSI Session Layer
The Session layer, layer seven of the OSI model, establishes, synchronizes, maintains and terminates sessions between computers on a network. It establishes a connection ID and authenticates security.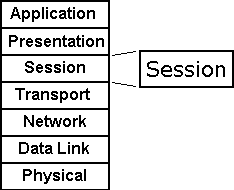 When you think of the Session layer, keep in mind that the OSI is only a model. Actual network protocol suites, such as TCP/IP handle the conection establishment, maintainance, and termination with protocols at the Transport layer.
More Networking Protocols and Standards:
• The TCP/IP protocol Datagram Format
• Active Directory : How Objects Are Stored and Identified
• The OSI Network Layer
• Comparison of the Layers of the OSI and TCP/IP Models
• IGRP (Interior Gateway Routing Protocol)
• Video - Introducing the OSI Model
• Network Switches
• NTP Server Systems - The Network Time Protocol
• OSI Transport Layer
• IPv6 Address Types and Scopes