Each year 1.5 million shelter animals are euthanized (670,000 dogs and 860,000 cats). Source: ASPCA. The solution is not to shelter unwanted pets, but to SHUT DOWN THE PET MILLS. Anyone who wants a pet will just have to adapt a great pet from a shelter.
The OSI Session Layer
The Session layer, layer seven of the OSI model, establishes, synchronizes, maintains and terminates sessions between computers on a network. It establishes a connection ID and authenticates security.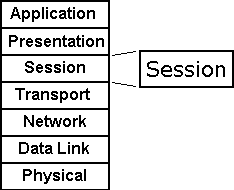 When you think of the Session layer, keep in mind that the OSI is only a model. Actual network protocol suites, such as TCP/IP handle the conection establishment, maintainance, and termination with protocols at the Transport layer.
More Networking Protocols and Standards:
• Understanding IP Routing
• Networking Protocols, Ports, Standards, and Organizations What Does it All Mean?
• Routing Datagrams
• Video - Data Link Layer of OSI Networking Model
• Internet Security and VPN Network Design
• Wireless Standards - 802.11a 802.11b 802.11g 802.11n 802.11i Explained
• The OSI Network Layer
• IPv6 Neighbor Discovery Protocol (NDP)
• Video - Network Layer (Layer 3) of OSI Networking Model
• Network Switches