How do you know if your PC is hosting spyware? Do new toolbars appear in your Web browser that you didn't install? has your Web homepage changed without you changing it? Do pop-up ads appear even on sites you know don't use popups? The worst kind of spyware you may not have any indication it's there - a key logger that will log every keystroke you make in order to capture your passwords and credit card information.
Most anti-virus programs will also detect spyware, but there is one application that is extremely proficient in detecting and removing spyware - Spybot - Search & Destroy. Spybot - Search & Destroy has won awards from PC Magazine, PC User, ZDNet, and many others. And it's free for home users, although corporate users are required to purchase a yearly license.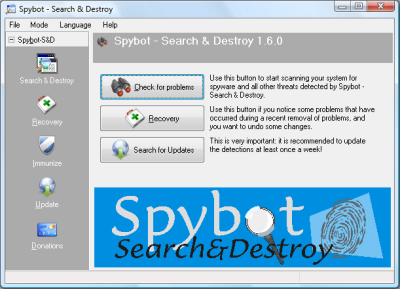 Spybot - Search & Destroy scans your computer's hard disk and RAM for spyware and adware. Then, not only does it remove the malicious software, it can also repair damage done to the registry. Some programs come with attached spyware and refuse to run when the spyware is not present. Spybot - Search & Destroy replace the spyware binaries with inert dummies to fool those programs. It also includes an immunize feature to block the installation of spyware before it occurs.
Some spyware manufacturers, knowing the program's popularity have created clones with the same name and same user interface. Users download and install the clone, but instead of removing spyware, they install spyware. It is, therefore, very inportant to download Spybot - Search & Destroy from the applications website at safer-networking.org or from another reliable source.

Learn more at amazon.com
More Windows Administration Information:
• Firefox Security Options
• A Guide to Understanding Security and Safe Windows Vista Computing
• Turn On Your Browser's Phishing Filter
• Types of Malicious Software
• Top Tips To Secure Your Online PC
• Seven Steps to a Secure Wireless Network
• FREE Antivirus Software AVG
• Remove Stubborn Malware Infection With McAfee Labs Stinger
• Beware The Many Forms of Ransomware
• FREE Antivirus Software Avast!