FREE Antivirus Software : Avast!
Avast! Home Edition by the Czechoslovak company Alwil Software is Vb100 and ICSA certified. This means Avast! 4 will detect 100 percent of all known viruses. Avast! provides both file and email protection that works with any POP3/IMAP4 email client, including Outlook and Outlook Express.
Avast! Antivirus is provided free of charge for home users. Download the 7.1 MB application from Avast. The only thing they request is that you register online. After you register, you receive an email containing an activation key. The program will work without the activation key, but the activation key allows you to receive automatic virus signature updates for the next 14 months. After that period, it is necessary to re-register.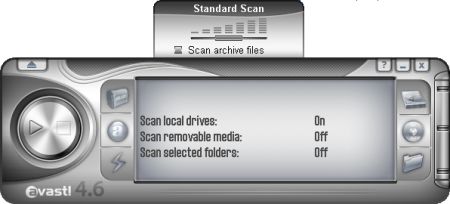 Avast! performs a scan of memory upon startup, then opens a a fancy round-cornered window that is a bit sluggish to move around the screen. Click on the drive icon (top one on right side) to select to scan local disks, then click on the big round button on the left side to begin the scan. Avast! has a simple user interface and Alwil Software provides free support via e-mail.
More Windows Administration Information:
• FREE Antivirus Software Avast!
• Keep Your Internet Browsing Private with InPrivate Browsing
• What is Phishing and How to Safeguard Against It
• How to Remove Virus Without Internet Access
• Video - Protect Your Files with Free SafeHouseExplorer Encryption Application
• Top Eleven Tips for Safe Computing
• What Are WEP, WPA, TKIP, AES and PSK?
• BIOS Security
• Botnets - What Are They?
• Has Malware Turned Off Your PC's User Account Control?