How to Configure Hyper-V on Windows Server 2019
After Hyper-V is installed, there are many different things that you can configure or change from what you set during installation. Getting to the Hyper-V console is similar to the other roles that you install on Windows Server 2019. From Server Manager, choose Tools | Hyper-V Manager.
When Hyper-V Manager opens, you see the name of the server on which you just installed the role. Click that server, and you see the menus change to reflect some of the things that you can do with the host. If you right-click the host, you see a menu similar to the one show. This menu allows you to configure your Hyper-V host the way that you want to.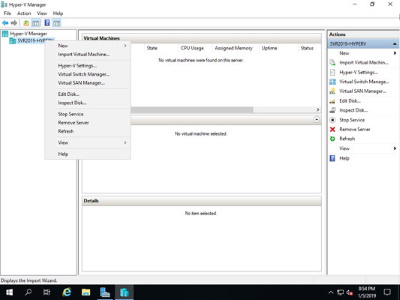 The menu for the host in Hyper-V Manager presents you with your configuration options for that host.
To start configuring the host, click Hyper-V Settings in the menu that you got from right-clicking the server's name.
Virtual Hard Disks and Virtual Machines
The first two configuration options - Virtual Hard Disks and Virtual Machines - allow you to change the storage location of the virtual hard disks that are used for the VMs and the location of the VM's configuration files.
NUMA Spanning
The third option, Non-Uniform Memory Access (NUMA) Spanning, shown in the following figure, allows you to set the host to act as a NUMA node. This allows VMs to use resources from the server they're on as well as other servers that are configured to be NUMA nodes. This means that a virtual machine can have more CPU or RAM than what is on the one physical host, if another host which is also a NUMA node is sharing that resource. This has an impact on performance so I wouldn't recommend it unless you're using it in a lab or development environment. Avoid using this in production environments.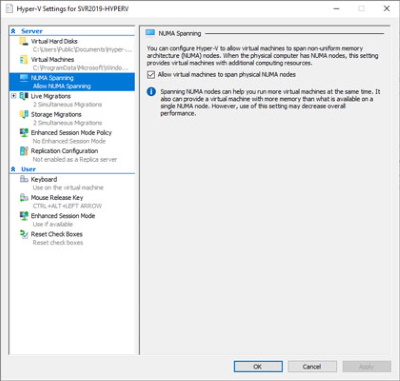 NUMA Spanning can be helpful in lab and development environments where you may not have the same resources that you do in production because it allows you to share resources across NUMA nodes.
Live Migrations
Assuming you followed along in the installation of Hyper-V, your Live Migrations section should have a check mark in the Enable Incoming and Outgoing Live Migrations check box. On this screen, you can specify how many live migrations can happen at any given time. The default here is two, as shown here. You can also specify a particular IP address if you want Live Migration to happen over a different interface than the rest of the traffic.