Unfortunately, by default Windows 10 taskbar Search is configured to "Search the Web and Windows", which first connects to Microsoft's bing search engine and searches Microsoft's Windows Store. When I use Search, I don't want to go shopping, I want to search my computer. And If I want to search the Web, I'll use Google. If you feel the same way, here's how to configure Windows 10 to Search Windows Only:
1. Select the Search box next to the "Start" button.
2. Click Settings (next to the gear icon) - a menu of Cortana options appears.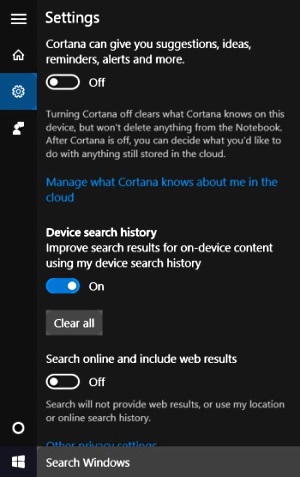 3. Set "Cortana can give you suggestions ..." to Off.
4. Set "Search online and include Web results" to Off.
The search box will now say "Search Windows" instead of "Search the Web and Windows" or "Ask me anything".

Learn more at amazon.com
More Windows Administration Information:
• Hard Disk Management
• Configure Windows Indexing Service for Performance
• Synchronize Your PC's Clock with an Internet Time Server
• Disable Long Filenames to Improve Window's Performance
• How to Configure Hyper-V on Windows Server 2019
• Computer Technician's Guide to Safety
• Command Line to Get Computers Model, Vendor, and Serial Number
• Font Basics
• A Day in the Life of a System Administrator
• Windows Event Logs for Maintaining or Troubleshooting Your PC