Learn more at amazon.com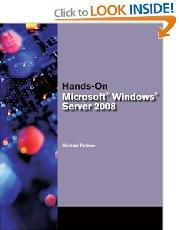 Windows Server 2008 is the most advanced Windows Server operating system yet, designed to power the next-generation of networks, applications, and Web services. With Windows Server 2008 you can develop, deliver, and manage rich user experiences and applications, provide a highly secure network infrastructure, and increase technological efficiency and value within your organization.
Hands-On Microsoft Windows Server 2008 is the perfect resource for learning Windows Server 2008 from the ground-up! Designed to build a foundation in basic server administration, the book requires no previous server experience. It covers all of the critical Windows Server 2008 features, including the features unique to this new server operating system, from Windows Server 2008 features and versions to installing, configuring, and using Hyper-V virtual server capabilities. Like other books in the widely successful Hands-On series, a variety of hands-on projects are located throughout each chapter, which can be completed in server console, remote connection, Internet, and virtual server environments.
Partial Contents:
• Windows Server 2008 Versions
• Windows Server 2008 Features
• Installing Windows Server 2008
• Troubleshooting Installation Problems
• Using Windows Deployment Services
• Installing and managing Service Packs
• Using Server Manager
• Installing and Removing Server Roles
• Planning a Windows Server 2008 Network Model
Configuring The Operating System:
• Configuring Performance Options
• Configuring Environmental Variables
• Configuring Startup and Recovery
• Configuring Power Options
• Installing a Protocol
• Configuring Hardware Devices
• Understanding the Windows 2008 Registry
Configuring Folder and File Security:
• Configuring Shared Folders
• Troubleshooting Shared Folder Security
• Containers in Active Directory
• Creating User Accounts in Active Directory
Publishing a Shared Folder in Active Directory
• Implementing Distributed File Systems
Installing Local and Shared Printers:
• Configuring a Network or Internet Printer
• Configuring Printer Security
• Managing Print Jobs
• Troubleshooting Printing Problems
Managing Disks:
• Basic Disks
• Dynamic Disks
• Using RAID Volumes
• Storage Manager for SANs (Storage Area Networks)
Windows Server Backup:
• Configuring Backup Performance
• Scheduling Backups
• Performing a Recovery
• Implementing, Configuring, and Troubleshooting DNS
• Implementing, Configuring, and Troubleshooting DHCP
• Implementing, Managing, and Troubleshooting IIS Server
• Implementing a Virtual Private Network
• Configuring a Remote Access Server
• Troubleshooting VPN and Remote Access
• Installing, Configuring, and Managing Terminal Services
• Active Directory Rights Management Services
• Configuring Security Using Security Templates
• Configuring Security Using Policies
• Using Drive Encryption
• Configuring NAT
• Windows Firewall
• Using Task Manager
• monitoring applications
• monitoring processes
• monitoring services
• monitoring users
• monitoring performance
• monitoring network perfromance
• setting priorities
• Using Performance Monitor
• Using Reliability Monitor
• Implementing the SNMP Service
• Managing System Reliability and Availability
• Resolving Boot Problems
• Using and Configuring Event Viewer
• Troubleshooting Connectivity
• Remote Server Administration Tools
• A Step-by-Step Guide to Using Server Virtualization Software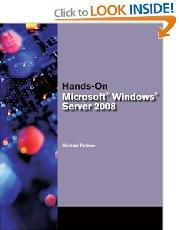 Click here for more information

Learn more at amazon.com
More Windows Administration Information:
• Command Line to Get Computers Model, Vendor, and Serial Number
• What Is Virtualization and What Are the Benefits?
• How to Install Hyper-V on Windows Server 2019
• How to Erase a Hard Disk Drive Permanently
• How to Optimize Your Solid State Drive
• Restrict Web Browsing With Internet Explorer
• Script to Print a Directory File List
• Video - Microsoft Remote Desktop - Part Two
• Windows Server 2019 and PowerShell All-in-One For Dummies
• A Handful of Useful Run Commands: calc, notepad, wordpad, voice recorder, control