CompTIA A+ Complete Study Guide
All-in-one guide prepares you for CompTIA's new A+ Certification. Candidates aiming for CompTIA's revised, two-exam A+ Certified Track will find everything they need in this value-packed book. Prepare for the required exam, CompTIA A+ Essentials (220-601), as well as your choice of one of three additional exams focusing on specific job roles:
IT Technician (220-602)
Remote Support Technician (220-603)
or Depot Technician (220-604)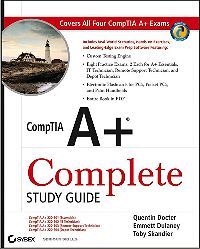 This in-depth book prepares you for any or all four exams, with full coverage of all exam objectives. Inside, you'll find:
• Comprehensive coverage of all exam objectives for all four exams in a systematic approach, so you can be confident you're getting the instruction you need.
• Hands-on exercises to reinforce critical skills.
• Real-world scenarios that show you life beyond the classroom and put what you've learned in the context of actual job roles.
• Challenging review questions in each chapter to prepare you for exam day.
• Exam Essentials, a key feature at the end of each chapter that identifies critical areas you must become proficient in before taking the exams.
• A handy fold-out that maps every official exam objective to the corresponding chapter in the book, so you can track your exam prep objective by objective.
Reader P. Whitley from Madison, Wisconsin says, "Let me start off with just one word: Wow. When I was going through my training for A+, I would've loved to have had this book for studying. While I have not read the book cover-to-cover, I have gone through a lot of it and actually found myself being sucked in and reading more and more of it. Throw in the changes for the new A+ exam and I was blown away.

The format of the book really works for someone getting a foot in the IT door by taking the A+ exam. Not only that, but as it stands now with the current trends, this (currently) very up-to-date tome is a good standby reference tool.