Have you ever had difficulty finding a window because its taskbar button was grouped with other window's taskbar buttons? You can easily prevent this annoyance.
1. Right-click on the Taskbar, and in the popup menu that appears, select "Properties".
2. In the Taskbar and Start Menu Properties dialog box that appears, select the Taskbar tab if not already selected.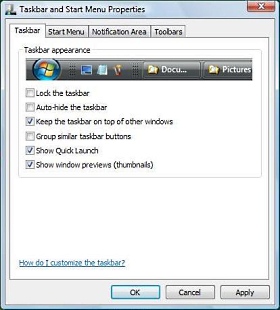 3. On the Taskbar tab, click to uncheck the [] Group similar taskbar buttons checkbox.
4. Click the [Apply] or [OK] button to apply the configuration change.
After setting this configuration, each open window will have its own taskbar button.
More Windows Tips:
• Make the Insertion Point Cursor More Visible
• How to Determine if You have 32 bit or 64 bit Windows 7
• Change Explorer's Thumbnail Size
• The Secret to Passing the Microsoft Office Specialist Exams
• How to Remove Metadata From Files in Windows 7
• Remove My Recent Documents from the Start Menu
• How To Build A Mortgage Calculator For Free in Microsoft Excel
• Disable Cutesy Effects to Speed Up Windows XP
• Windows Mouse Dead? - How to Get Around Windows Without the Rodent
• Google Apps vs Microsoft Office 365: Which is Best for Your Business?