How to Use Windows Explorer's Built in FTP Client
Most webmasters maintain their websites through their host provider's control panel (cpanel), or using a separate FTP (File Transfer Protocol) utility. Many don't realize that Windows File Explorer (not Internet Explorer) has a built in FTP client. This makes it easy to transfer files from your desktop to your website.
Before you attempt to use Windows Explorer for FTP make sure you have your FTP account login information handy. You'll need:
• Your domain name
• Your ftp user name
• Your FTP password
With your account information handy, open Windows Explorer. You can do this by pressing the [Windows Key] + [e]. In Windows Explorer address bar, click just to the right of the current entry to highlight it, and replace it with ftp://username@domain.com. After a short delay you should be connected to your webserver and a login box should appear.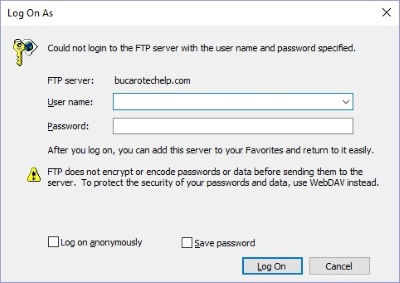 Enter your FTP account username and password in the login box and click on the [Log On] button. After a short delay Windows Explorer should display a file listing of the root of your website.
You can now navigate the directory structure of your website and drag and drop files from your computer to your webserver, or delete files and folders on your webserver.
More Web Design Coding Issues:
• Basic Dynamic Website Security
• Update Your Entire Website Instantly Using Server Side Includes (SSI)
• What is that Double Forward Slash in the URL?
• Video - Optimizing the Order of Scripts and Styles
• Website Updates are a SNAP With Server Side Includes
• Video - HTTP caching
• How To Effortlessly Use Streaming Audio
• How to Strengthen Website Authentication
• Advantages and Disadvantages of Frames
• Set Up a Freefind Search Box on Your Website