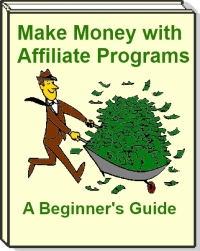 Affiliate marketing is when you market other people's products or services on your website (although there are many channels other than a website through which you can market. When someone buys a product or service (generally by clicking on your affiliate link which takes them to the company's website), the company pays you a commission.
There are many advantages to affiliate marketing as apposed to other business models. You don't need to develop or manufacture a product. You don't need to store any inventory. You don't need to do any shipping. You don't need to provide customer support. The startup cost is extremely low - the only cost is setting up a website. Since you can work from anywhere that you can get an internet connection, you can live anywhere, or even travel continuously while running your business. As long as your website is functioning, you're making money even while you sleep.
There are thousands of affiliate programs you can join and hundreds of thousands of products and services for you to choose from. You can choose to promote just one product, or hundred products to promote on your web site. There is no limit to the number of product you can promote. If one product doesn't meet your revenue requirements, you can always drop it and choose another product to promote.
Most affiliates receive commissions from about 5 to 90 percent for each sale initiated through their affiliate link. Some affiliate programs pay for things other than sales, like clicks or leads. As an affiliate marketer, your job is to choose the best affiliate program(s) with products or service that you know you can sell and commission payouts that make it worth your effort. If you do that correctly, you'll discover that affiliate marketing is a profitable business.
eBook Contents:
• What is Affiliate Marketing and How Do I Get Started?
• Tap Into the Affiliate Money Stream
• Make a Fortune Promoting Other People's Stuff Online
• How to Pick Profitable Affiliate Programs
• Finding and Selling Hot Affiliate Products
• Design Web Site Around Affiliate Programs
• Affiliate Program - Commission Structures
• 11 Tips for Joining Affiliate Programs
• Download Sites and Affiliate Programs
• How to Setup a Website for the eBay Affiliate Program
• Create a Business Using Online Poker Affiliate Programs
• Make More Money, Build An Affiliate Marketing Opt-In List
• Selling Online Using Google Adwords and Affiliate Networks
• How to Embed Your Affiliate Links Into YouTube Videos
• Six Ways to Make More Money With Affiliate Program
• Affiliates, Are You Making These Big Mistakes?
Successful affiliate marketers are raking in up to six figures every month. That's why, more and more people are getting into affiliate marketing every month. If you don't want to miss out on making money from affiliate marketing, this ebook is for you. The articles in this ebook provide secrets revealed by the Internets most successful affiliate marketers.
More Make Money with Affiliate Programs Ideas:
• Download Sites and Affiliate Programs
• Make Real Money Online Selling Clickbank Products
• Free eBook - Make Money With Affiliate Programs - A Beginners Guide
• Make Money With Affiliate Programs - A Beginners Guide
• Your Own Website is Critical for Niche Affiliate Marketing
• Six Easy Steps to Affiliate Marketing Success
• Why Affiliate Marketing is a Great Online Business
• 19 Recurring Income Affiliate Programs
• Affiliate Marketing for Beginners: A Step-by-Step Guide
• 11 Tips for Joining Affiliate Programs