How to Source Wholesale Products
If you're starting a retail business and looking for products to sell, you'll need to find reliable wholesale suppliers. Sourcing wholesale products can be challenging, and there are certainly lots of pitfalls that business owners need to look out for. This serves as a guide with some helpful tips for finding the right wholesale product sources for your business in the U.S.
Choose your supplier type
Depending on what kind of business you're starting (online vs. brick and mortar), you'll need to decide on the type of wholesale supplier you want to use. Here are the types to consider:
Manufacturers: Most times buying direct means a high minimum order. Usually manufacturers will have smaller retailers buy their product through one of their local distributors. You can find this information either on the manufacturer's website or by contacting them directly.
Distributors: Usually distributors tend to carry a large variety of products in a certain category (say pet products) from several manufacturers. Their prices are slightly higher than buying direct, but minimum quantities are usually low and you have the convenience of purchasing products from different manufacturers on one purchase order.
Liquidators: If you are flexible about your product needs, this is a fantastic way to get a real break on price. Many times you can purchase a bulk load of product for up to 75 percent off the original wholesale price. Consider your purchases carefully because once a product is sold out it's usually gone for good.
Importers: If you plan to sell specialty products from another country, you'll likely have to go through an importer to get them.
Drop Shippers: If you have an online business, drop shipping is one of the best ways to supply products for your business without worrying about manufacturing processes or warehousing costs. Drop shippers are basically distributors in that they buy from manufacturers or other distributors, but they will ship orders directly to your customers for you, as orders are placed.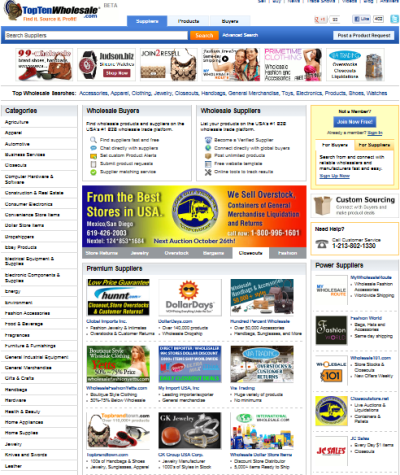 TopTenWholesale is where you can find wholesale products, manufacturers, importers, distributors, auctioneers, independent retailers, flea marketers, drop shippers and any reseller of new and closeouts merchandise.
Where to look
The most common place to look is online. You can use general search engines like Google and Yahoo, or you can use wholesale-specific search engines, like Top Ten Wholesale, or Wholesale Central.
There are also trade lead sites like Alibaba and Global Sources, which allow you find suppliers all over the world.
You can also attend trade shows such as China Sourcing Fairs and Canton Fair where vendors get together to showcase and demonstrate their products.