So You Think You Want to be an Entrepreneur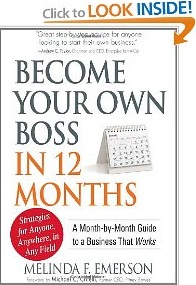 Become Your Own Boss in 12 Months: A Month-by-Month Guide to a Business that Works
Whether you're newly unemployed, sick of office life and longing for a change, or just want to finally turn your business idea into reality, you can follow your dream and make your passion your profession. Drawing on her experience as founder of an award-winning production company, Melinda F. Emerson shows you how in this practical month-by-month guide to getting your business off the ground.
Inside, you'll find the timetable and steps you need to take to become a successful CEO of your own venture. Excerpt from the book:
If you think that you work hard now, just wait until you become your own boss. You will come to know what the word "sacrifice" means. You'll scale back eating out, buying the latest gadget, and shopping whenever you feel like it. You'll cook at home and eliminate all unnecessary spending. Yes, that well-deserved steak dinner at your favorite restaurant is now an unnecessary expense.
Small businesses typically take twelve to eighteen months to break even and three years to generate any profits. And it usually takes four years of focused effort for a business to blossom into a self-sustaining entity. It will take every bit of enthusiasm and energy you have to grow your business into a viable enterprise and a powerful brand.
Being a successful entrepreneur is also about having patience. You need to be patient with yourself, your employees, and most importantly, your customers. The sales won't come as fast as you think they should, but if you can just hold on, being an entrepreneur can be your most satisfying professional experience.
So the first step is to decide if your cut out to live this kind of life.
The Entrepreneurial Mindset
• You always think there's a better way to do things.
• You'd prefer to be in charge.
• You think your boss is generally clueless.
• You feel underused by your supervisors and dissatisfied by your job.
• You know you would do things differently if it were your company.
• You sit at your desk calculating the amount of money you make for your employer, thinking that you should be working for yourself.
• You are convinced that you could do a better job than the folks that surround you.
Entrepreneurs are natural leaders. They are self-motivated and creative thinkers. They can make a decision quickly and stick to it. Entrepreneurs are visionaries, hard workers, and are extremely perceptive. They typically have demanding personalities and are extroverted. They are risk takers who are always seeking to improve upon current conditions.
On the flip side, at times such people are often stubborn and impatient. Entrepreneurs are not always good listeners or coachable, and can be territorial.
If any of this strikes a chord, if you fell these are qualities you possess, then entrepreneurship may be for you. But before you go into business, there are six things you must have:
1. A life plan
2. A solid business ideas
3. Good credit and strong finances
4. A business plan
5. A supportive family or spouse
6. Faith