How to Start a Junk Removal Business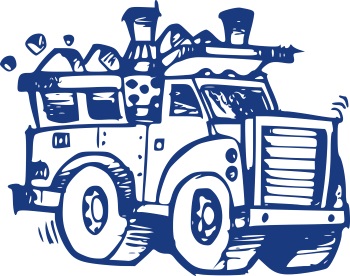 A junk removal business can bring in significant income. Typical customers of junk removal services are home builders and remodelers, accident and disaster clean up services, landscape companies, event and trade show operators. To be successful, you need to build a good reputation so that you can receive referrals repeat customers. A typical junk removal business generates around $250,000 in revenue with a net profit of about $55,000.
Create a Business Plan
Your business plan spells out how you intend to start your business and make money. Start by stating your objective and explaining what exactly you will do (which market you will serve, any specialties, etc.). Then, include your market research showing that there is room in the market for your business. Go on to explain your pricing model, startup costs, marketing strategy, and how you plan to fund your business.
Your pricing model should be based on both your expenses (overhead, equipment, employee wages, disposal fees, and gas), and the prices charged by your competitors. You can charge by weight (though this can be difficult or impractical), or by how space in the truck is filled by the junk.
Obtain Funding to Get Started
You will need some money to get started. Your startup funding needs to cover the cost of your truck, equipment, marketing efforts, and some working capital for your first few jobs. The first few months you may not be able to find enough clients to cover your expenses, so make sure your initial budget can fill the gap. You can save some money by renting a trunk and equipment when needed instead of buying them immediately.
You can cover these expenses with a loan from a bank or credit union, or money from a friend or family member. The Small Business Administration also guarantees business loans at banks and can help you qualify for the money you need.
Acquire a Business License
Register your company according to your local government requirements and guidelines for waste carriers. You may need to contact your local chamber of commerce or SBA branch to get more specifics on these requirements, as they vary between different counties and states.
At minimum, you will need to register a "doing business as" name with your local government. If you plan to hire employees, you will need an employer identification number (EIN) from the IRS Getting this number is free on the IRS's website.
There may also be special permits or licenses you need for transporting scrap metal or just transporting junk. New York City, for example, requires that junk removers register with the city and apply to obtain a specialized license. Failure to obtain a license before hauling may result in fines.
Purchase Appropriate Insurance
At minimum, you will need general liability insurance and property insurance. These cover legal expenses resulting from lawsuits, such as if one of your trucks damages the client's property, and damage or loss of business property, respectively. As a small business, you may be able to combine both of these into a business owner's policy.
Workers' compensation insurance covers your business if you are sued by an employee. For example, if an employee is injured on the job, your workers' comp insurance may cover their medical bills. You will also need auto insurance for your vehicle(s).
Check the offers of several insurance companies and select the best deal. Large insurers may be able to offer you a complete package, specialized to the junk removal industry, that contains all of these types of insurance.