How to Start a Home-Based Tutoring Business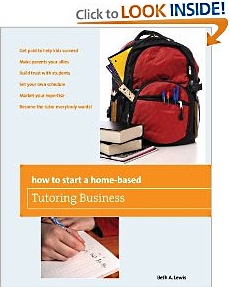 American parents spend four billion dollars a year on tutoring millions of children, and this figure is expected to grow by more than twelve percent annually. Why not make the most of this trend? Whether you are an educator or otherwise have expertise in a particular field, How to Start a Home-Based Tutoring Business gives you all the tools and success strategies you need to launch and grow your business. A longtime teacher and tutor shares her experiences and advice on every aspect of the field.
The book is packed with tips and FAQs, as well as forms and checklists, including:
• Session preparation checklist
• Sample tutor-parent contract
• Tutorís memo and studentís notes
• Sample invoice
• Budget template
Contents:

So You Want to Start a Home-Based Tutoring Business?
  Classroom Teaching vs. Home-Based Tutoring
  If you've Never Taught Before
  Reflecting on Your Potential for Home-Based Tutoring Success
  The Realities of Self-Employment
  Enlisting Household Support

Envisioning the Business
  What You Need to Get Started
  Defining Your Work Style
  Ways to Meet Your Clients Needs

What You Need in Your Workplace
  Setting Up Your Home Office
  Setting Up Your Tutoring Workspace
  Merging Workspace and Personal Space
  Achieving Work-Life Balance
  Creating a Mobile Workspace
  A Final Word on Workspaces

Writing a Business Plan
  Why Create a Business Plan?
  Elements of the Business Plan
  How Will You Define Business Success?

Getting Started
  Setting Up Your Small Business
  Steps to Starting Your Business
  Consulting Professionals
  Printed Materials
  Building a Business Web Site
  Ready to Tutor!

Home-Based Tutoring in Practice
  The Successful Initial Parent Phone Call
  The Initial Parent-Tutor Meeting
  Supplementary Materials for the Initial Meeting
  Setting Up a Scheduling System
  Establishing a Rapprt With Your Students
  Real-Life Example: A Typical Tutoring Session
  Ongoing Client Updates
  Keeping Clients Happy

Financial Planning and Management
  Factors to Consider When Setting Your Hourly Rate
  Designing and Enforcing Your Cancelation Policy
  Weathering Seasonal Ebbs and Flows
  Invoicing
  Budgets

Recordkeeping and Taxes
  Recordkeeping
  Taxes

Ethical Issues
  Confidentiality Issues
  Maintaining Neutrality on Sensitive Subjects
  Ethical Communications with the Classroom Teacher
  Business Ethics

Marketing Your Tutoring Services
  Marketing Research
  Marketing Factors
  Creating a Market for "Off-Season" Tutoring

The Internet nd Home-Based Tutoring
  Building a Business Web Site
  Web Design Tips
  Search-Engine Optimization
  Offering Online Support Between Sessions
  Expanding Your Business into Online Tutoring

Business Endgame
  Visualizing the Evelution
  Ways to Grow Your Business
  The Benefits of Staying Small

Training and Cxertification
  Staying Connected to Educational Trends and Tools
  Ways to Grow Professionally
  Above All, Keep It Practcal

Appendix
  Recommended Reding List
  Recommended Web Sites
  Recommended Software and Sources
 Frequently Asked Questions

Beth A. Lewis covers everything from writing a business plan, setting your rate, organizing your workspace, and marketing, to keeping clients happy and monitoring student progress to show results. She also provides indispensable guidance on legal and ethical issues, on cutting costs for textbooks, and on becoming and staying profitable, as well as how to use the Internet to develop your business. Click here for more information.