How to Start and Run a Successful Auto Detailing Business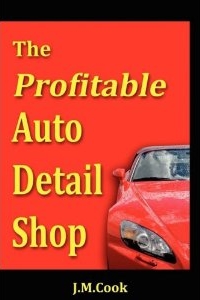 This book will be very helpful for anyone thinking about opening their own auto detail shop. There are also great ideas and information for people who already have a shop and are looking for ways to improve profitability. From out-sourcing and up-selling to step-by-step detailing systems, this book covers it all.
Step-by-Step Business Operating Instructions:
• Estimating Start-up Costs
• Choosing a Location
• Advertising and Marketing
• Choosing Equipment, Tools and Products
• Shop Layout and Organization
• Customer Service and Pricing
• Increasing Profitability Through Out-sourcing and Up-selling
Step-by-Step Auto Detailing Instructions:
• Step-by-Step Exterior Detailing System
• Step-by-Step Interior Detailing System
• Engine Compartment Detailing
• Using a High Speed Buffer
• Wash and Wax
• New Car Protection Package
• Cleaning and Protecting Convertible Tops
• Cleaning Plastic Rear Windows
• Wet Sanding
• Water Spot Removal
If you're the type that dosen't want to sit for hours at an office job, if you want the pride and satisfaction of being a craftman and owning your own profitable business, then starting an Auto Detailing Business could be your road to success. Click here for more information.