Start Your Own Public Relations Business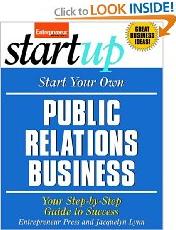 The explosion of media opportunities and the rapidly changing communications landscape have served as key drivers for the public relations industry, creating huge opportunities for communications and PR specialists.
Coaching you all the way, the experts at Entrepreneur show you how to parlay your PR experience into a successful new business. Our experts take you step by step from building the business foundation to managing day-to-day operations. Learn how to set up your firm, choose your market niche, prospect and sign clients, build media relationships, set fees, and more! Plus, gain priceless insight, tips, and techniques from practicing entrepreneurs and industry experts!
Learn how to:
• Set up your own PR firm
• Choose your market niche
• Win over, sign, and keep clients
• Build strong, well-planned campaigns
• Use the latest tools of the trade
• Develop prosperous relationships and partnerships
• Boost profits by expanding your business
• And more
Partial Contents:
• The Role of a PR Professional
• Public Relations Services
• Tools of the Trade
• Your Policies and Standards
• Marketing Your Firm
• Building Strong Relationships
• Sales and Negotiation Skills
• Setting Fees
• Dealing with Difficult Clients
• Measuring Results
• Reaching the Public Through the Internet
• Online Press Releases
• Plus much more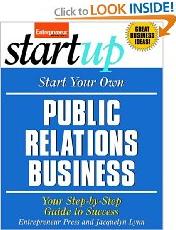 Click Here for more information.