99 Ways To Make Money From Your Photos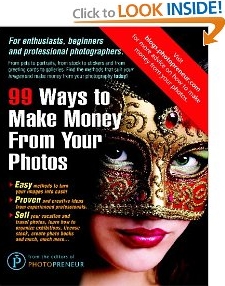 Packed with insider tips, practical strategies, and case studies, the editors of the successful Photopreneur blog reveal 99 creative ways to make money from your photography. Each chapter reveals what to shoot, how to break in, and where to go to generate sales. Discover how to sell stock, approach galleries, host your own exhibition, earn with Flickr, shoot for social networking sites, create and market photo products, form joint ventures, upsell your event photography and much, much more.
From beginners to enthusiasts and from hobbyists to professionals, 99 Ways To Make Money From Your Photos can help anyone earn income from their talent.
"99 Ways To Make Money From Your Photos is a great resource for any photographer serious about turning their passion for photography into real money." - Jeff Beaver, Co-Founder Zazzle.com
J. Russell of Florida says, "This book does indeed list 99 ways to make money from selling your photos. The assumption is that you're already a competent photographer, and if that's so then this book, along with some creativity, imagination, and hustle on your part will help you to begin to make some money from your photographs.
"What I especially like about this book is that each way to make money rates how difficult it is to make money with that particular tip, the amount of competition you'll face, and that tip's income potential. Each tip is described in detail and includes how to get started and tips for success! In some cases specific web sites, etc., are included as possible outlets for your work.
"If you're already a good photographer, and you're willing to take this book and really work hard at what it teaches you, then you should begin selling your own work soon. I have!"
Some of the 99 Ways to Make Money From Your Photos:
1. Sell Stock Photos
2. Sell Your Photos "Royalty Free"
3. Sell Your Photos "Rights Managed"
4. Submit Your Pictures to Competitions
5. Become a Local Photojournalist
6. Attend Art Fairs
7. Approach Galleries
8. Host Your Own Exhibition
9. Win Assignments for Magazines and Commercial Shoots
10. Making Moo Cards
11. Make Your Own Mouse Pads
12. Earn Every Day with Calendars
13. Create Photographic Trading Cards
14. Turn Your Photographs into Wallpapers
15. Let Buyers Eat Your Photographs
16. Illustrate Recipes
17. Create Publicity Photos for Businesses
18. Shoot Local Stock
19. Sell Posters
20. Get Seasonal - Halloween, Thanksgiving and Christmas Products