The Digital Business Start-Up Workbook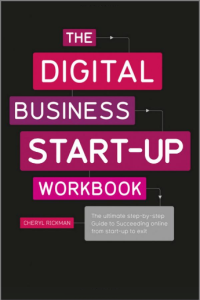 The Ultimate Step-by-Step Guide to Succeeding Online from Start-up to Exit
Using a thorough and comprehensive workbook format that is action-focused and easy-to-understand, this book guides readers through the entrepreneurial journey from concept to validation to commercialization to exit. It uses practical exercises to walk the reader through each step of the start-up process and includes advice from some of the most successful and well-known digital entrepreneurs. Online extras like downloadable templates, exercises, and tips offer further resources for entrepreneurs, current business owners, and brick-and-mortar business owners who want to expand maximize their online presence.
Excerpt (abbreviated)
Online Business Success Checklist
[ ] Write your business plan, action plan, marketing plan, and exit plan.
[ ] Outline sources of finance, what you need the money for, and how much equity you are prepared to give away.
[ ] Design and develop a content-rich search engine friendly website.
[ ] Put a web analytics and monitoring solution in place.
[ ] Create a content strategy.
[ ] Write clickable and readable web copy.
[ ] Contact, compare and choose suppliers, payment providers, and order fullfillment processes.
[ ] Optimize your site for mobile and web across multiple platforms, operating systems and browsers.
[ ] Outline which skills, knowledge, industry contacts, experience are missing from your team that you'll need to recruit.
[ ] Establish how you'll retain staff through motivation, environment, communication and culture.
[ ] Define your brand identity, summarize your promise and write a slogan.
[ ] Consider how you'll spark curiosity prior to launch and from then on.
[ ] List our creative ideas about brand ambassadors.
[ ] Find out what social mediums your audience is using and evaluate the content, topics and formats they are interacting with.
[ ] Create relevant marketing messages.
[ ] Set up social media profiles which reveal that value.
[ ] Recruit a fleet of influencers who can create a buzz.
[ ] List potential partners and collaborators.
[ ] Put in place methods to enable your customers to promote your products and services for you.
[ ] Createa top-notch customer service plan.
[ ] Establish ways to store and protect your and your customers data.
[ ] Put together a strong management team with scalable technology.
[ ] Learn from your mistakes, work hard, persist and believe.
The complete checklist can be found in the book. Click here for more information.