How I Make Over $3,000 Monthly Selling Products Online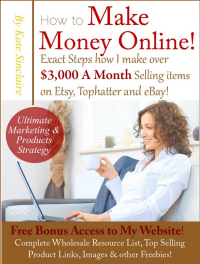 This book is created for anyone that is looking for a work at home job, that will earn more money than most people make with their 9-5 jobs! This book is for any Entrepreneur that wants to start a Home Based Business selling online!
Absolutely anyone can follow my detailed Step by Step plan to start up your own home based E-Commerce business making over $3,000 a month selling products or services such as handmade jewelry, crafts, iPod covers, Coach purses and more using the most popular retail selling websites like Etsy, eBay, Fiverr and Tophatter.com!
I explain in detail how to sell on each one of these websites, what to sell and where to get the products. Online small business entrepreneurs should not only sell products online, but should sell with passion and Niche keyword marketing that works in today's economy. This book can help you find your Niche!
I will show you how to start your Ecommerce small business online without any money down and how to find the Hottest selling products. You will learn Secrets including researching the top selling products, critical keywords, crowd-funding, and a Bonus wholesale resource guide. This eBook covers every aspect of getting started, choosing the hot selling products, social marketing, and so much more.
I have read many books about selling products on websites like Etsy.com where most of the book will never apply to your business. This book really gets down to the important steps, concise, detailed instructions on how to succeed and most importantly, what not to do. You will find this to be Fresh, new information that will truly kick start your business.
Table of Contents
Chapter 1. Desire, Intention and Passion to start your business
Chapter 2. Determine Daily Start up Income and Kickstarter campaigns
Chapter 3. Letís Start Building your Business!
Chapter 4. Setting up Essentials like Stamps.com and Paypal
Chapter 5. Where to get Your Products, (hot-selling and trending items)
Chapter 6. Attractive Professional Photos Clicks and Tricks
Chapter 7. Keyword Rich Etsy Descriptions Secrets
Chapter 8. Heart Tugging Blog Marketing Strategy
Chapter 9. Etsy Secrets and Success in a Nut Shell
Chapter 10. eBay Secrets and Success in a Nut Shell
Chapter 11. Tophatter Secrets and Success in a Nut Shell
Chapter 12. Social Media Fast Track
Chapter 13. Create a Website for Residual Income and Affiliate Income
Chapter 14. Using Keyword Niche Marketing - Find Your Niche!
Plus a Bonus! Hot Selling Products List and Wholesale Resource Guide Complete access to Matching Website for Support and more!
Your opportunity is waiting! This book will become your top online selling guide with the best on the top Retail websites including Etsy, eBay and Tophatter.com. This will become your most valuable Online Selling Resource!
Reader Laci says, "I've already started my online journey using Kate's advice. I came up with a semi-unique idea for a service oriented business on fiverr.com. I'm anxious to see how it works out, but reading her book has really got me thinking. I even watched several auctions on Tophatter today and have a pretty good feel for what sells and what doesn't. I'm so excited about getting this business going now that I have some real guidance. Thanks Kate. Hopefully this will take off for us and we can start paying off some bills instead of living paycheck to paycheck." Click here for more information.