Choosing a Picture Book Illustrator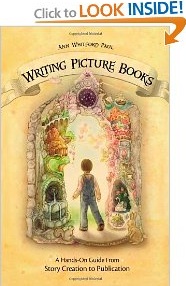 Writing picture books is not easy. Picture books are a unique form of writing with a large audience of 2 to 8-year-olds, and they must appeal to both the adult purchaser and the child. They are generally 32 pages long and must be tightly focused and told partly through illustrations. Novice picture book writers make a lot of mistakes - and get a lot of rejections from publishers flooded with inappropriate manuscripts.
From this book these writers will learn the writing and revision process that will lead them to creating more salable picture book manuscripts. Ann Whitford Paul covers researching the picture books market, creating characters, point of view, plotting, tips on writing rhyme, and more, all the lessons writers need to write great picture books that will appeal to both editors and young readers. She uses a mix of instruction and hands-on exercises, often asking readers to cut, color and paste their way through revision.
The Author became inspired to write picture books after years of bedtime reading to her four children. She writes picture books, poetry and early readers. Her books have won numerous awards and recognition including a place on The New York Times Notable Books List, Carl Sandburg Award for Children's Literature, Bank Street College Best Books list, Notable Science and Social Studies Books, National Parenting Centers "Seal of Approval," and Recognition of Merit from the George C. Stone Center for Children's Books of the Claremont Graduate University, and they've been nominated for numerous state reading awards.
Contents:

Before You Write Your Story

1. Becoming a Picture Book Scholar

Early Story Decisions

2. Building a Frame for Your Story House
3. Telling Your Story  - Part One
4. Telling Your Story  - Part Two
5. Telling Your Story  - Part Three
6. Creating Compelling Characters

Structure of Your Story

7. Diving Into Your Story
8. Creating a fabulous First Line
9. Three-Act Structure - Basic Plotting
10. Holding Your Story Together
11. Does Your Story Make It to the End

Language of Your Story

12. Two Ss of Story Writing
13. Rhyme Time
14. Making Music With Your Prose
15. The Importance of Word Count

Tying Together Loose Story Ends

16. Grabbing the Reader with a Great Title
17. Cut and Paste -  Making a Dummy Book

After Your Story Is Done

18. Sharing Your Story
19. Becoming a Detective - Researching the Market
20. Priming Your Idea Pump
21. Selling Your Manuscript

Click here for more information.