Network Notepad Free Network Diagraming Tool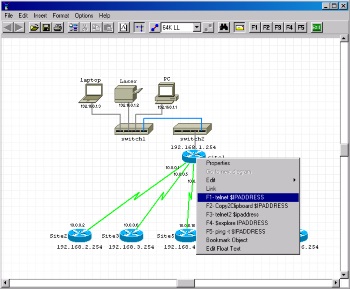 Network Notepad is a freeware app for creating interactive network diagrams designed by Jason Green of Bristol, UK. It's a complete network diagramming tool that includes interactive functionality (like telnet, browse, ping, and more). Network Notepad has an easy-to-use drag-and-drop interface and also has an autodiscover feature for Cisco devices.
• Runs on Microsoft Windows 9x, NT, 2K, XP, Vista
• Point-and-Click Telnet⁄Browse⁄User-definable Network Management.
• Simple Drag and Drop interface.
• Open, Text Based File Format.
• Printing.
• Linked Diagrams.
• Flow Charts.
• Complete online help and documentation.
Download free version here
Network Notepad Professional Edition is a commercial application for creating interactive network diagrams. It runs on Microsoft Windows 8, 7, Vista, XP and 2000. The Professional Edition Features: Tabbed multi-page diagrams, Improved graphics, Customizable shapes, Grouping and Locking, and Rotate Objects and Text.
More Network Troubleshooting and Support Articles:
• How to Use a Network Cable Toner
• What is DevOps?
• DevOps - Development and Operations
• Fiber Optics Troubleshooting
• Metro Ethernet Fundamentals for WAN Connectivity
• Network Cabling Do's and Don'ts
• Structured Cabling - A Detailed Tutorial and Even More!
• Incredibly Bad Network Designs That Still Work
• Network Maintenance
• Fiber Optic Cable Tester - What Is It and How to Use?