Five Types of HDMI Cables
Are you planning to buy an HDMI Cable? Not a bad idea at all. With HDMI, you can watch movies and TV shows on the larger screen of your LCD or LED TV. Doesn't make sense?
The concept is very simple really. Say you download a movie from the internet. You have two options now. Option 1 is where you watch the movie on your PC. Option 2 is where you connect your PC to your LCD or LED TV and watch the movie on a larger screen. This connection is done using an HDMI cable.
Now, there are different types of HDMI cables available in the market. Some are technologically more enhanced and some are designed for specific PCs and TVs. So, before you buy a cable, it is important that you get to know about the various types. The guide below should make it easy for you to make your purchase decision.
HDMI Cable 1.4a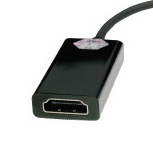 This cable was released in March 2010 and has two mandatory 3D formats for movie content broadcasting and gaming. This cable requires the frame packing of 3D format at 720p50 and 1080p24 or 720p60 and 1080p24. Additionally, the frame packing side-by-side horizontal should be 1080i50 or 1080i60 and the frame packing top-and-bottom should be 720p50 and 1080p24 or 720p60 and 1080p24.
HDMI Cable 2.0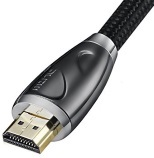 This cable was released in September 2013 and is sometimes referred to as HDMI UHD. This cable improves the maximum TMDS per channel throughput from 3.4 Gbit/s to 6 Gbit/s. This allows for a maximum total TMDS throughput of 18 Gbit/s.
HDMI Cable 4K
This cable has a resolution of 4,000 pixels. In digital cinematography and digital television, there are many 4K resolutions. The dominant 4K standard in the movie projection industry is Digital Cinema Initiatives or DCI. 4K TVs have yet to make their mark in the mass market.
HDMI Cable 3D
This cable is compatible with 3D TVs. In a 3D TV the depth perception is better because of the use of modern techniques like multi-view display, stereoscopic display, 2D-plus-depth and other forms of 3D display. Some of the modern 3D TVs don't even need glasses for 3D effects.
HDMI Ultra HD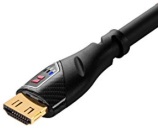 This cable is compatible with Ultra HD TVs. These TVs deliver eight million pixels compared to two million pixels of 1080p Full HD TVs. These TVs offer better clarity and smoothness. However, these TVs are still work in progress and it should be some time before they are released in the market. However, the cable can be used with higher-end TVs available in the market now.
---
It is best to shop online because you get a pricing advantage. You can also compare the prices across websites and choose from the best seller. For more information over HDMI cable 4K; please visit us- HDMI Ultra HD
More Computer Anatomy Articles:
• Intel Chipsets
• Understanding the Software Layers of a Computer
• Laptop Computer Bottom Access Covers
• How Does Wireless Internet Work?
• Introduction to Operating Systems
• PC Technician Street Smarts: A Real World Guide to CompTIA A+ Skills
• Tips and Techniques For Building Your Own PC
• Basic PC Anatomy Inkjet Printers
• How is Data Written, Stored On, and Erased From Hard Disks?
• Understanding Modern PC Specifications