Windows Registry Basics
The Registry is a database that stores information about the system, including; installed hardware and its configuration, device drivers, network settings, installed applications and their configuration, and the configuration of each user's desktop.
If you plan to maintain your own computer, you will need to become familiar with the Windows Registry. For example, if your computer stops while loading Windows and displays the mesage "Cannot find device", you will need to remove the reference to that device from the Registry.
Construction of the Registry
The Registry consists of a hierarchical structure of keys. To open the Registry Editor select Start | Run, type in regedit.exe, then click on the [OK] button. The Registry Editor is a two-pane window. "Keys" are listed in the left pane. "Values" are listed in the right pane. There are six top-level keys:
| | |
| --- | --- |
| HKEY_CLASSES_ROOT | File associations and software object registrations |
| HKEY_CURRENT_USER | A pointer to the current logged in user's configuration information in HKEY_CURRENT_USER |
| HKEY_LOCAL_MACHINE | Hardware, Software, and Security configuration |
| HKEY_USERS | User profile for the currently logged in user |
| HKEY_CURRENT_CONFIG | A pointer to hardware profile that the system booted with in HKEY_LOCAL_MACHINE |
Viewing the Registry
You can view and study the Registry using Registry Editor (Reged.exe). One important use of the Registry Editor is to see what programs are run every time Windows starts. Registry keys that start programs are:
HKEY_LOCAL_MACHINE
\Software\Microsoft\Windows\CurrentVersion \RunServices
HKEY_CURRENT_USER
\Software\Microsoft\Windows\CurrentVersion\Run
To open the Registry Editor, in the Start button's Search box type regedit.exe. In the Registry Editor window that appears, click the + sign in front of the HKEY_LOCAL_MACHINE key. This will open up the key and display a list of sub-keys.
Open the subkey Software. This is the key under which software vendors should install their products. In the list of Software subkeys, open the subkey Microsoft, then Windows, then CurrentVersion, then Run.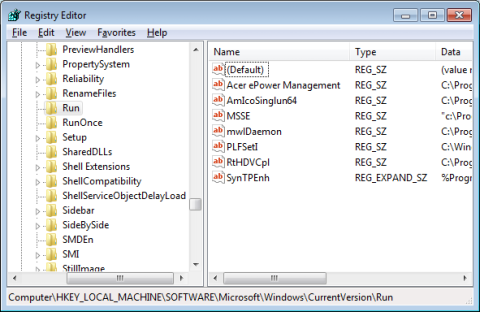 Note: Every key has one and only one value that is named "Default". A key may have any number of other named values, but you cannot delete the one named Default.