Metadata is information attached to a file such as the author, the date it was created, the copyright notice etc. Why would yo want to remove the metadata? Maybe the information is something you want to keep private, for example what type of camera you used to take a photograph and what image processing software you used on the image. Or you might want to use a photograph to which someone has erroneously attached a copyright.
There are some images that cannot be copyrighted, for example photos of stamps, coins, and paper currency cannot be copyrighted. Photographs of people cannot be copyrighted unless you have acquired a signed model release from the individual in the photograph. (these are just examples and there are exceptions to these rules.)
Follow the steps below to remove Metadata stored in files:
1. In Window's Explorer, right-click on the file's name and in the popup menu that appears, select Properties.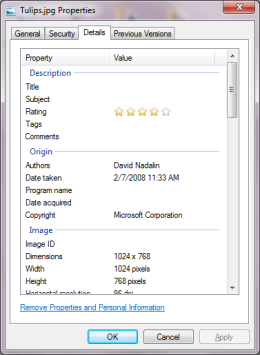 2. In the file's Properties dialog box, select the Details tab.
3. On the Details page, at the bottom of the page, click on the "Remove Properties and Personal Information" link.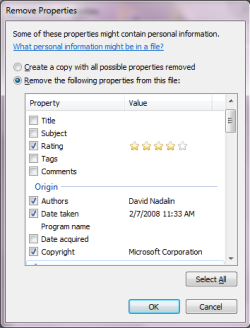 4. In the Remove Properties dialog box that appears, set the "() Remove the following properties from this file:" radio button. Then set the checkboxes next to all the properties that you want to remove. Click on the [OK] button.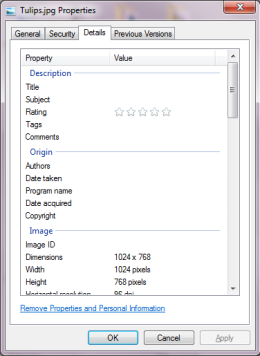 The file's Properties dialog box now shows the metadata has been removed.
More Windows Tips:
• Windows 10 Keyboard Accessibility Settings
• Configure Windows Taskbar
• Configure Your Keyboard's Typomatic Functions
• Put a Help and Support Center Shortcut on Your Desktop
• Vista - Display Multiple Clocks on Your Desktop
• Delete Windows App Usage History
• Window 10 Power Management
• How to Remove a DVD or CD that's Stuck in the Drive
• Create Your Own Custom Taskbar Toolbar
• Disable Windows 7 Start Menu Display of Most Recently Opened Files