OpenOffice is a multiplatform and multilingual office productivity suite that is quickly becoming the main competitor of Microsoft Office. OpenOffice consists of the key desktop applications you can find in other office automation suites: a word processor, a spreadsheet, a presentation manager, a drawing program and a database.
Writer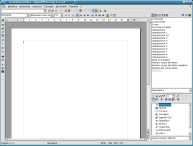 A word processor program offering almost all the features available in MS Word. It can open MS Word and Wordperfect files and directly create documents in HTML and PDF format. Other Writer's notable features are document templates, extremely useful when you need to create standardized documents (such as business letters or faxes) and the Stylist panel that allows you to change the style of an element (for example paragraph headings) within your whole document with a click of the mouse.
Calc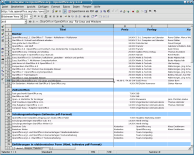 A powerful spreadsheet that can open MS Excel files and follows almost the same model for formulas making the migration of spreadsheets made with the popular Microsoft application an easy task. Calc supports complex cell formatting functions and reusable data sheet styles through templates.
Other important features are an advanced DataPilot technology through which raw data extracted from corporate databases can be used to feed a spreadsheet for further analysis and presentation, and a powerful tool for analysis of "what if" scenarios.
Impress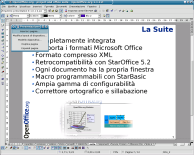 Impress is a presentation program and offers all the typical features of this kind of software: an integrated text editor to format text with support of multiple fonts, colors and styles, an image manager to include clip arts and other graphic images in your presentations and a slide show creator to order and display (with support of several transition effects) the various slides that are part of a presentation.
Presentations can be printed to a PDF file, saved as MS Powerpoint files and exported in various other formats including SWF (Flash) files, XHTML and many graphic file formats. In addition the HTML Export wizard will allow you to make your presentation visible on the Web.
Draw
A complete vector graphics editor capable to create complex diagrams, flowcharts, organization charts and graphics including 3D objects. Smart connectors greatly simplify the creation of diagrams. You can attach a connector to an object and when you move the object the connector will follow it.
Draw includes an extensive gallery of pre-made clip-arts and graphics that can be extended by adding your own work to it. The result of your work can be saved in OpenDocument format and exported in all common graphic formats (bmp, png, gif, jpeg, tiff, wmf) and Flash files.
Base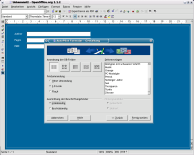 BASE is a full featured database manager. With BASE you can create, query and manage databases built with HSQL, BASE native database engine. Some external databases such as ADO, Microsoft Access and MySQL are natively supported while other database engines can be utilized through ODBC and JDBC drivers.
With simple visual tools even inexperienced users can easily perform all the typical database management operations: creating tables and indexes, establishing relations between tables, adding, editing and deleting records, creating and executing database queries.
Other useful tools are the Report Wizard that greatly simplifies the creation of reports from data and the Form Wizard to easily create database applications.
Licensing
OpenOffice is an open source product and can be utilized for personal and business use without paying any licensing fee. This is particular important for users of similar commercial applications who are consider a migration to this office productivity suite, as a fully functional version of any OpenOffice application can be extensively tested before taking a definitive decision.
OpenOffice is a mature product constantly developed and supported by an ever growing community of users. It deserves a serious consideration by individuals and business owners in need of a low cost software solution to enhance their personal or company's productivity.
---
Mike Paolieri is webmaster of [opensourcegazette.com URL redirected] an informative website offerin a complete selection of open source applications such as office productivity suites, web authoring tools, graphic editors and other utilities all categorized, rated and reviewed by users.

Learn more at amazon.com
More Windows Tips:
• Three Ways to Force a Program to Close
• How to Restore Files from File History in Windows 10
• Know Your Keyboard Shortcuts
• Change the Mouse Pointer
• Turn Off Windows 7 Taskbar Preview Thumbnails
• Configure Folder Options
• Disable Windows 7 Start Menu Display of Most Recently Opened Files
• Create Your Own Custom Screen Saver with Windows Built-in Slideshow
• How to Write Protect a File
• How to Add and Remove Desktop Gadgets