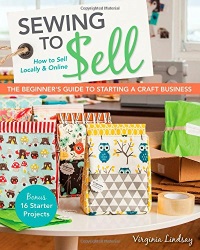 This is a must-read book for any sewist who is toying with the idea of taking their home sewing to the next level. Not only does this book provide you with 16 starter projects – it covers the basics from finding your sewing style, identifying your customers, essential equipment, buying and using your fabric to sewing and selling. There are also interviews throughout the chapters from talented sewists who have taken the leap and created their own craft business.
What I really enjoyed about this book was each pattern included a cutting guide for a single item and then a cutting guide for multiples – an excellent time saver for stock building. Each project also included a sample price guide – perfect for any first time seller who is unsure of what to price their precious sewn items. - Make Modern Magazine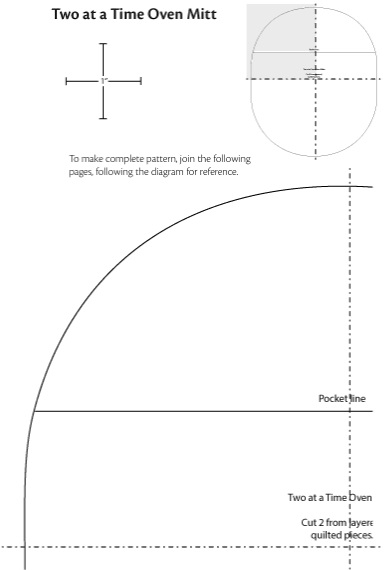 Excerpt: Now for the question of whom you are going to sew for. At home, when you are sewing for yourself, you can sew whatever you like. One day you may feel like sewing a pretty pink baby blanket, and the next you are making your boyfriend a camouflage canvas wallet. Switching projects around is great for improving your skills and flexing those creative muscles. My sewing room is full of projects from all sorts of different moods and interests. Switching up is wonderful when you are sewing as a hobby, but when you want to make the transition to selling your creations as a profession, you need to make some clear decisions and focus on a specific group of people to sew for. Then follow your sense of style (see Finding Your Sewing Style) to give your work a cohesive professional look.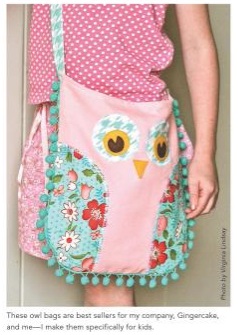 The author's expertise in running Gingercake Patterns, an online pattern business, is put to good use in a book that's half-helpful suggestions for those who want to start a home-based sewing business and half a selection of 16 sewing patterns that can be used to make projects to sell. The first section contains valuable information on everything from identifying potential customers to taking good photos for online sales and setting prices for craft shows. Lindsay doesn't offer much advice about the less glamorous and more practical aspects of setting up shop, such as incorporating a business or figuring out a profit margin, but there's enough to be worthwhile.
The projects are cute, too, including a simple boxy pincushion and an appealing, reversible grocery tote, all clearly explained with step-by-step diagrams. None of the patterns are revolutionary, but - this is key - Lindsay grants permission for all 16 projects to be sewn and sold, an important consideration for those starting a sewing business, and quite possibly making the book worth the price just for those. Full-color photos, pattern pullouts. - Publishers Weekly
Sewist Jennifer L Stein says, "This book is very useful for someone who loves crafting and is making the move to selling work. The author shares so much information on how she has learned to sell her work. I love seeing her work space set up and how she sets up for a craft sale. The projects are my favorite part - adorable and practical. I'm deciding which I will start first - the messenger bag or the place mat and table set."
Sewist Michelle Hardt says, "This book is a great, informative book for the crafty sewer looking to make some money off their hobby. It tells you step by step how to go about selling handmade items online and at local craft shows. She starts with how to pick items and fabrics, how to photograph them, how to price them and then how to showcase them online and what sites she uses. She includes a variety of patterns to start with that she has successfully sold. The patterns are clear, easy to follow and good for even a beginner sewer. I really enjoyed input from other famous sewing artists that Virginia interviews in the book. I highly recommend this book if you are trying to figure out how to go about selling your handmade items!"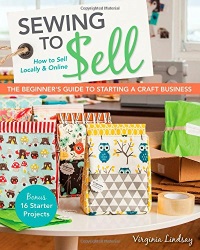 Learn more at amazon.com
More Make Money With Crafts Ideas:
• Making a Profit Selling Your Ceramic Crafts
• Using Artistic Flair For Your Craft Show Crafts
• Thinking of Starting an Arts and Crafts Business?
• How to Make Sales After the Craft Show
• Craft Shows that are Right for You!
• Four Things You DIDN'T Know About Making Money at Craft Shows
• Pricing Your Way too a Better Craft Show Profit
• Turn Your Reborn Doll Craft Into a Website
• Ten Ways to Advertise your Arts/Crafts Business
• Advanced Selling Tips for Crafters