If you accidentally or purposely deleted the Recycle Bin icon from your desktop, or if it disappeared for unknown reasons, you can easily get it back. To restore the Recycle Bin icon to your desktop, follow the steps below.
1. Right-click on a blank space on your desktop and, in the popup menu that appears, choose Personalize.
2. In the "Personalize appearance and sounds" windows that appears, in the left pane, Click on "Change desktop icons".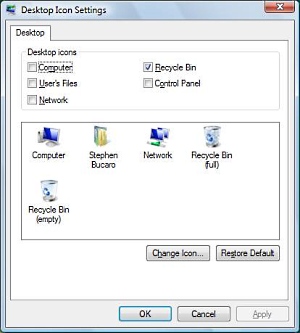 3. In the "Desktop Icons Settings" dialog box, set the checkbox next to "Recycle Bin" and click on the [OK] button.
More Windows Tips:
• How-to Capture the Computer?s Screen
• Configure Windows Taskbar
• View Your Windows Update Log
• Customize the Quick Launch Toolbar
• Windows 10 Keyboard Accessibility Settings
• Desktop Shortcuts Give Quick Access to Applications and Folders
• Configuring Sound for Windows Events
• Synchronize Your Computer's Clock With an Internet Time Server
• How to Add or Remove Items from Send to Menu
• Where Did Firefox Put My Download?