All PNG and JPEG format image files contain embedded metadata. This metadata, also known as EXIF (Exchangeable Image File Format) data, contains 60 bits of information, mostly about the camera used to take the image and the image's dimensions, resolution, and color depth, but also some information you might not want exposed.
Information you might not want exposed includes title, subject, ratings, tags, comments, authors, date taken, program name, and copyright.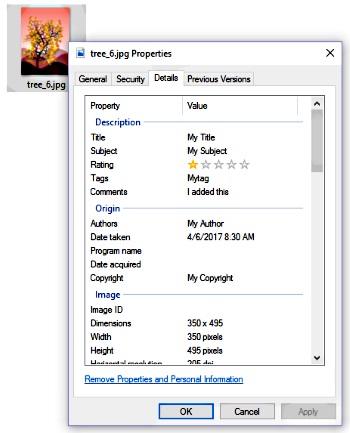 You can edit or delete this information by right-clicking on the image files icon on the desktop or in file manager to open the image's Properties dialog box, and in the Properties dialog box, select the Details tab. On the Details tab, click on any piece of information you want to delete or edit.
One problem with this method is that you can edit the metadata of only one image at time. What if you want to clear the metadata from a group of images? For that you can use the free EXIF Eraser.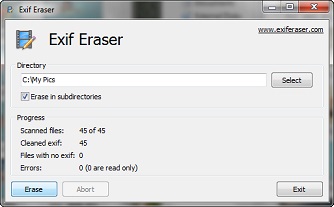 EXIF Eraser is a free lightweight utility that allows you to easily and effectively delete all EXIF/IPTC/XMP information from image files. All you need to do is navigate to a folder containing image files and EXIF eraser will erase all the EXIF data from the files in that folder. EXIF Eraser deletes the EXIF information without making any changes to original image, so you don't have to worry your image being changed.
One nice thing about EXIF Eraser is that it is very small and needs no installation. Since it doesn't write anything to the registry, it is portable and can run directly from any USB device. And if you want to uninstall it, just delete the program file.
Don't forget, you need to copy all the image files you want to clean the metadata from into a folder. And you if find EXIF Eraser useful, please click on the Donate button.

Learn more at amazon.com
More Graphics Design Tips:
• What is Blender? The Software's Origins and Evolution
• An Insight to Logos
• Graphic Design Meets Open Source
• Drawing Text with Draw SVG
• Selecting Vertices Edges and Faces in Blender
• Use GIMP to Scale (Resize) an Image
• How to De-haze a Photo with GIMP
• How to Trace an Image Using Photoshop
• Inkscpe Snap Controls Bar
• Inkscape Preferences