Inkscape - How to Use Bitmap Image Fill Pattern
Inkscape is a free Open Source vector graphics illustration application that works similar to Adobe Illustrator. A vector graphics application allows you to create images by drawing geometrical objects like rectangles, ellipses, lines, and curves with your computers mouse or a graphics tablet. Inkscape lets you fill these objects with flat color, gradients, or bitmap patterns. In this article you learn how to fill an object with a bitmap image.
A bitmap image can be a photograph or an image created in a graphics application, it can be in the .png, .jpg, .gif, or .bmp file format. Assuming that you have an Inkscape file open, and that you have a bitmap file that you wish to use as a fill pattern, here are the steps required:
1. In Inkscape's main menu select File | Import, and in the Select file to import dialog box that appears, navigate to and select the pattern image file. Then click on the [Open] button.
In the Link or embed image dialog box that appears, with the embed radio button set, click on the [OK] button. The fill pattern will appear in the drawing area.
2. In Inkscape's drawing area, select the bitmap, then in the main menu, select Object | Pattern | Objects To Pattern.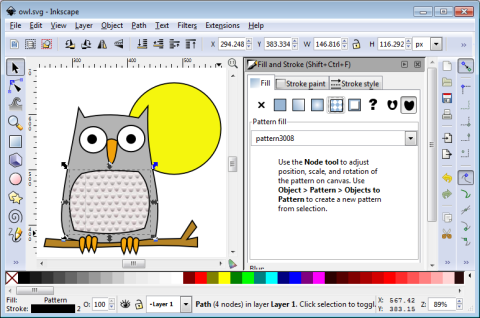 3. Select the object you want to fill with the bitmap image. If the Fill and Stroke dialog box is not open, right-click inside the selected object. In the Fill and Stroke dialog box select the Fill tab, then click on the [Pattern] button. The [Pattern] button is the small diamond filled square. The pattern appears to fill the selected object.
More Graphics Design Tips:
• How to Place Greek Letters in an Inkscape Drawing
• Free Replacement for Overpriced Photoshop
• Inkscape - How to Join Two Segments at Endnodes
• Graphics Design for Beginners - Cropping Images
• Inkscape Basics
• Introduction to X3D (Extensible 3D)
• How to De-haze a Photo with GIMP
• Inkscape Rectangles and Squares Drawing Tutorial
• How to Use Basic Linear Gradients in Inkscape
• The Browser Safe Palette