Copywriting for Internet Marketing Success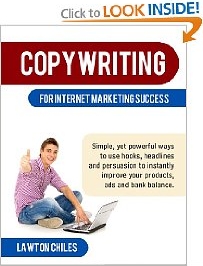 Simple, yet powerful ways to use hooks, headlines and persuasion to instantly improve your products, ads and bank balance.
This short free eBook is about email list marketing. Of course you'll need either a Kindle or the Kindle Reading App for your PC which you can download for free from Amazon to read this eBook.
Contents:.
• Tricks to get great subject lines
• 30 subject lines you can use
• How to use Amazon for market spying
• How to use Google Trends and Magazines
• How to gain more trust and authority
Reader Jerry Goldsmith says, "AT LAST!! A self published e-book that delivers "real world" tips, methods, and suggestions that actually work. If you are a beginner this book will increase the monetary value of your list exponentially. If you have been marketing for awhile, you will remember all of those things you used to do when you were first learning and probably had a checklist.
I am really sick of the "guru" books by the experts that promise useful content but actually deliver just a few teasers in an effort to get you to buy their next book, product,or course. In this book, you have an industry leader in web based marketing with an amazing client base, sharing many of the methods he used to create and maintain his current A-list of clients.
Simply put, if you market on-line for any business reason whatever, this book is an absolute must!
• Webmaster note: I noticed that some authors initially release their Kindle eBook with a price of $0, until it gets a few good reviews, then they raise the price. All I can say is, at the time I downloaded it, it was free.
More Get Paid for Writing:
• Help - My Writing's Not Selling!
• How to Create Your Own Book in Hours Instead of Months
• Earn $5,000 per Month in Residual Income from Market Intelligence Reports
• Writing Income With iWriter
• Get Paid Writing For The Yahoo! Contributor Network
• Five Ways Non-Fiction Authors Can Make Money Far Beyond Selling Books
• Affect, Effect - What's the Difference?
• How to Self-Publish Using Print on Demand
• Making Money at Home Writing Articles
• Can Work at Home Moms Become Freelance Writers?