How to Write Protect a File
Write protecting a file prevents anyone, including you, from editing or accidentally deleting the file. Follow the steps below to write protect a file.
1. In Windows Explorer, navigate to the file and right-click on the file's name. In the popup menu that appears, select Properties.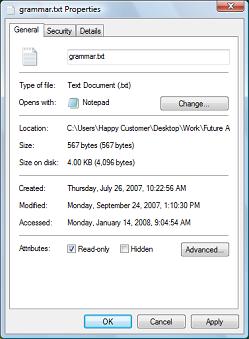 2. In the file's Properties dialog box, on the General tab, at the bottom of the page, set the [x] read-only check box.
3. Click on the [OK] button.
More Windows Tips:
• Make the Insertion Point Cursor More Visible
• How to Add or Remove Items from Send to Menu
• Put a Help and Support Center Shortcut on Your Desktop
• Restore a File's Previous Version
• VLC Free Open-Source Media Player
• Configure the Start Menu
• Use Windows Key Shortcuts
• Remove Windows Components You Don't Need
• Why My Office Files Do Not Open
• Google Apps vs Microsoft Office 365: Which is Best for Your Business?