Graphic Design Meets Open Source
Being a graphic designer can be a pretty pricey thing. We like to have powerful computers and expensive enterprise software. I'm looking at you Adobe Create Suite .... There are alternatives that aim to meet the needs of our profession and products. Graphic design is an art and software is just a tool like a paint brush. Open Source software development has come up with such cool free products as GIMP, Inkscape and KompoZer.
I know they all sound kind of geeky and in that way there's something inaccessible sounding about it, but hopefully what you see here will help you get past your fears, uncertainty and doubt. It's all free to use so there isn't much risk involved. Open Source isn't the solution for everything, but it's as a public service that we can often tap into. We're an adventurous bunch, so let's try something different.
Here are some free graphic design programs that might just bring graphic design to the artists who can't or don't want to spend the money on the insanely priced corporate versions.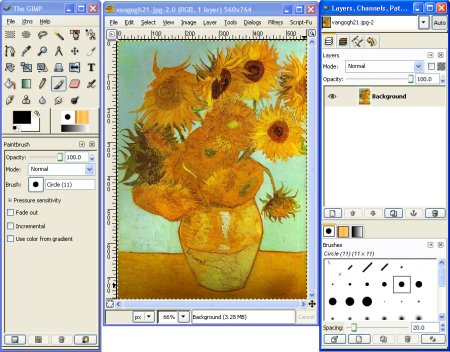 GIMP is the most widely known Photoshop alternative. Most of the functions that you might use in Photoshop are implemented; you can crop, adjust colors, save as different file formats, use various filters and brushes. CMYK support is there but fairly weak and difficult to handle which may be completely unacceptable for most of us in the print industry. However for web design this won't be a problem since it natively supports the RGB color space. Photoshop users may want to look into GIMPshop, a modification package which is intended to help GIMP mimic the Photoshop user interface. GIMP is available on Windows, Mac and Linux.
This handy program adds itself to your Windows printer menu. Anything you print can be converted to PDF format or various other graphics formats for you to manipulate. Very handy to have on any system.