How to Make Money with Your Blog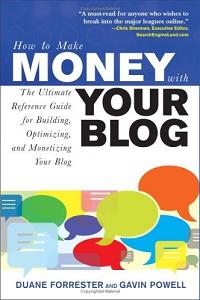 The Ultimate Reference Guide for Building, Optimizing, and Monetizing Your Blog
Whether you re an experienced blogger or an absolute beginner, you can make money with your blog. Simply follow the step-by-step advice of two expert bloggers and industry insiders who have launched many successful sites of their own. They ll walk you through every step of the blogging process, and they ll even share their most profitable tricks of the trade.
• Generate income using various types of ads
• Tap into the power of other blogs
• Maximize searches for more hits and more money
Reader Jeff Lippincott of Jlippin.com says, "This is a book I recommend anyone interested in Internet marketing read and study. I liked it overall. But I didn't like the title to the book because it gives the consumer the idea that there is real money to be made blogging. At page 88 the author finally acknowledges that bloggers should not expect to earn anything more than modest amounts of revenue each month. And modest means minimal! The book has the following chapters:
1. Quick starts: Top 10 lists
2. Blogs and search optimization (SEO)
3. Generating revenue with your blog
4. Managing your blog
5. Extras and inspiration
"This book attemps to cover all aspects of successful blogging. It introduces the reader to Blogger and Wordpress, which are the two main free blog-hosting services online. It also covers the various hosting options and what to look for in a host. I have blogs at both Blogger and Wordpress, and I think they are wonderful hosting services. This book also covers how to create, maintain and promote a blog.
"According to the authors you can monetize your blog with either contextual ads, ad networks, or affiliate programs. Of course, it takes a very popular blog (one with lots of traffic) for much money to be made from any of these sources. And if you have a blog that is that successful, then you'd be better off selling your own products and services where you make all the money instead of collecting a wimpy commission.