How to Sell Art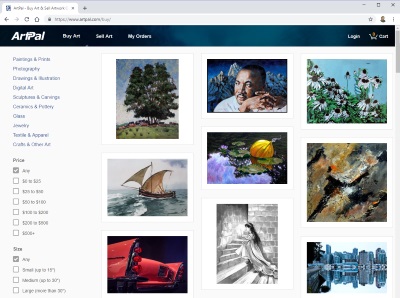 Knowing how to sell art will help you learn how to appeal to your customer as well as become familiar with the business side of art. If you're a first time seller, don't feel overwhelmed; you don't need a fancy agent or an ultimate masterpiece to sell your art. Follow these tips to help all of your hard work pay off.
Putting Your Name out There
Make business cards and promotional fliers.
Distribute these items around local art galleries and fairs.
Ask local vendors if you can leave some of your business cards with them or post a flier on their community bulletin boards. Consider contacting vendors that would have the appropriate clientele for your artwork.
Also advertise at local restaurants and stores. This will will allow you to catch people of all interests.
Tell friends, family, and co-workers about your art.
Those that are closest to you are your biggest advocates. Let your friends, family and co-workers know that you are selling your art.
Show them some of your favorite pieces so they can pass on first-hand information about your art for sale. Be sure to also give them some of your promotional materials so they can hand out your contact information.
Display your art at a local fair.
Most communities host a variety of art fairs throughout the year. Research the various options and decide which one, or ones, would be most appropriate for the type of art you are selling.
For example, if you intend on selling paintings, go to one which highlights paintings in particular.
Keep in mind that it often costs money to have a booth at these fairs, but consider the fee an investment in your business. Putting up a little money will likely pay off once you sell a few of your pieces.
Take your art to interested patrons.
If you know some people who may be intrigued by your work, host a small get together at your house or at one of their houses.
You can also host a private showing to only a handful of guests. Some people are more likely to attend an intimate event like this than an art fair. Ask all of those invited to bring a guest and, again, you are broadening your client base just by word of mouth.
Networking within the Community
Hold a local exhibit at an art gallery to display your work.
Art galleries host events to show off new artists' artwork that can help you get your name into the art world.
Local galleries enjoy loyal and steady art lovers, making them ideal places to build a following. Even if you don't grab the attention of important art folk, you'll be spreading your name to those who may know said important art folk.
These galleries also tend to have an established network of art promoters who love to support budding artists. Because they are often small, they tend to pay special attention to individual artists. They also will focus on bringing in interested collectors, practically advertising your work for you.
While galleries are great, know that you aren't limited to them to showcase your work. Cafes, office lobbies, schools, and other places of business often host mini exhibitions from local talent. This is a great way of exposing your art to casual art fans; remember, not everyone goes to art galleries, but they do grab the occasional coffee.
You'll most likely have to share a portion of the profit with the gallery. They are helping market your name, which does come with a price. Don't worry; this is a small price to pay for getting to share your work.