How to Open a Shop on CafePress Step-by-Step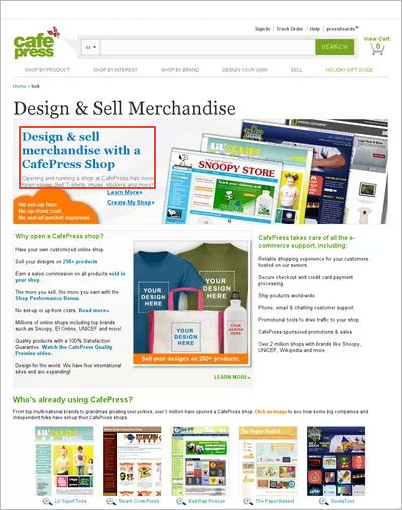 CafePress is an Internet business that provides you the opportunity to set up your own online storefront. You provide your own designs to put on the products that CafePress provides you; when they sell, you and CafePress both earn money. You can sell a single product or a number of different products from your CafePress shop. To open a shop on CafePress, follow the steps below.
1. Sign up for a CafePress account. You'll need to provide a login name (usually an e-mail address), a password and a Shop ID. The Shop ID will become part of the URL (pathname) that identifies your CafePress shop to others.
2. Decide what kind of CafePress shop you want to have. CafePress offers three kinds of shops: Basic, CafePress and Premium. Basic and Premium Shops let you set your own price as a markup over the base price CafePress sets for each item, while CafePress sets the sale price for items you sell in a CafePress shop.
• Basic Shops are free, and you can set up as many as you want, but you're limited to selling only one product in each shop. You can, however, promote your shop in the CafePress Marketplace, and CafePress does provide other promotional tools to help you promote your shop.
• CafePress Shops are also free, but CafePress determines the retail prices for items in your shop; you get a 10 percent commission on each sale. The range of products you can choose to sell is more limited than in a Basic Shop, and you're not eligible to receive a performance bonus or to be listed in the CafePress Marketplace.
• Premium Shops charge a monthly, quarterly or annual fee for the shop; however, you can choose to sell any of the products CafePress offers and different products from the same shop. You also have a choice of pre-made designs for your storefront or the ability to create your own design, as well as the ability to organize your products in categories.
3. Choose the product(s) you want to sell in your CafePress shop. Available products include clothing items, stationery, bags, calendars, posters, mugs, clocks and mousepads. You can also use CafePress to sell books-on-demand and audio CDs. You can click on any product to get information about its size and design options.
4. Upload the artwork for the items you're selling. Each product has specifications as to the dimensions of the artwork it can support; depending on the product, you may have to adjust its size on your computer before uploading, or you can do so after uploading it to CafePress. Depending on the product, you can adjust the placement of the image and preview how it will appear on the product.
• Generally, you'll want to avoid having large borders around your images, as this will take away from the space available for the image itself. Also, if you're designing an image to go on a black item, create it with a transparent background so that CafePress will not surround it with white.