How to Profit From Your Special Artistry, Creativity, Hand Skills, and Related Know-How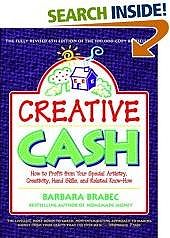 Imagine making thousands of dollars a year from a hobby you love. Millions of people just like you are using their creative talents to make big money. With the help of the nation's top expert on this topic, Barbara Brabec, so can you! She gives you everything you need to kniow to launch a lucrative home-based business.
Packed with dozens of moneymaking ideas and success secrets of more than 100 professional crafters and industry experts, this guide shows you how to start your own home shop, sell your work, make money selling how-to articles, teaching, and much more.
Contents
Producing for Today's Marketplace
• The Importance of Quality and Good Design
• Buying Supplies Wholesale
• Using Commercial Patterns and Designs
• Developing Creativity and Design Ability
• Doing Market Research
• Pricing Insight
Selling at Fairs and Shows
• How to Find Good Shows
• Learning How to Sell
• Your Personal and Professional Image
• Demonstrating Your Art or Craft
• Get a Gimmick
• How Product Lines Change and Grow
Home Shops and Sales
• Private Studios and Workshops
• Open House Sales
• Hoiday Boutiques
• Seasonal Boutiques
• Home Craft Parties
• Home PArty Success Tips
Turning Designs into Dollars
• Selling How-to Articles to Magazines
• Writing Craft and Needlework Design Books
• Developing and Selling Patterns
• Wholesaling a Pattern Line
• Developing and Selling Kits
• Licensing Designs to Manufactureres
Profit from Special Know-How
• Teaching How-to Techniques
• Finding Places to Teach
• Speaking About Your Art or Craft
• Adding Pizzazz to Your Presentations
• How to Become a TV Personality
• Selling Needlework or Stitchery Services
• Offering Special Business Services
Opal Leasure from Madera, California says, "... the author does an excellent job of showing others "how-to" sell, market and otherwise, expand, their home based business endeavors. Creative Cash outlines hundreds of ways to market crafts including party plan (hostess) selling, home shows and boutiques. It also reflects on how one thing can lead to another, in life, and your own small business. Many listed, myself included, went on to self publish their own how-to books. I was very happy to note in the book, that Barbara included a resource section listing the professional crafters mentioned in the book. This is a good way for readers to benefit from the talents, ideas and creativity of many people ..."

Learn more at amazon.com
More Make Money With Crafts Ideas:
• Six Steps to Successful Fundraising With Craft Shows
• Making Money With a Home Crafts Business
• Tips For Turning Your Favorite Hobby Into a Successful Work-at-Home Business
• Turn Your Reborn Doll Craft Into a Website
• Tips for Selling Crafts
• Creative Cash - How to Profit From Your Special Artistry, Creativity, Hand Skills, and Related Know-How
• Turn Your Crafting Hobby into a Home Business Success
• Best Money Making Business Ideas for Women Who Craft
• Sell Your Crafts - List of Online Selling Venues
• Easy Soap Making - Easy to Follow Guide and Recipe!